09marWebinar: Dr Claire Beecher - COSUTI: the development of a core outcome set (COS) for interventions for the treatment of uncomplicated urinary tract infection (UTI) in adultsEvent-Type:Webinars
Event Details

Urinary tract infections (UTIs) are among the most common bacterial infections in the outpatient setting. The continued focus on antimicrobial stewardship has driven an increase in the volume of clinical trials investigating various interventions for the treatment of UTIs. The variation of outcomes being reported in these clinical trials, however, makes it difficult to make direct comparisons between the effectiveness of treatment interventions. This webinar will discuss the methods and results of COSUTI, a project that addresses this issue through the development of a Core Outcome Set for interventions to treat uncomplicated UTIs in adults. The project was conducted in collaboration with people who have experienced or cared for someone experiencing a UTI, healthcare practitioners, researchers and policymakers with a strong focus on ensuring the inclusion of stakeholders from countries of different income levels.

Dr Claire Beecher holds Bachelor's degrees in both Business Studies & Event Management (Limerick Institute of Technology) and Midwifery Science (University of Galway). In 2014 she was awarded the Dr H.H. Stewart Medical Scholarship in Midwifery. Her PhD thesis was titled 'The development of a survey instrument to evaluate women's experiences of their maternity care in Ireland'.. The survey instrument developed has been adopted by the National Care Experience Programme as the Irish National Maternity Experience Survey and was implemented nationally in Ireland in February 2020.Claire is postdoctoral researcher on the Priority 3 project, a Priority Setting Partnership to identify and prioritise unanswered questions in the methodology of rapid reviews. Claire is also working on the COS-UTI core outcome set for interventions for the treatment of uncomplicated urinary tract infection in adults with the HRB-TMRN.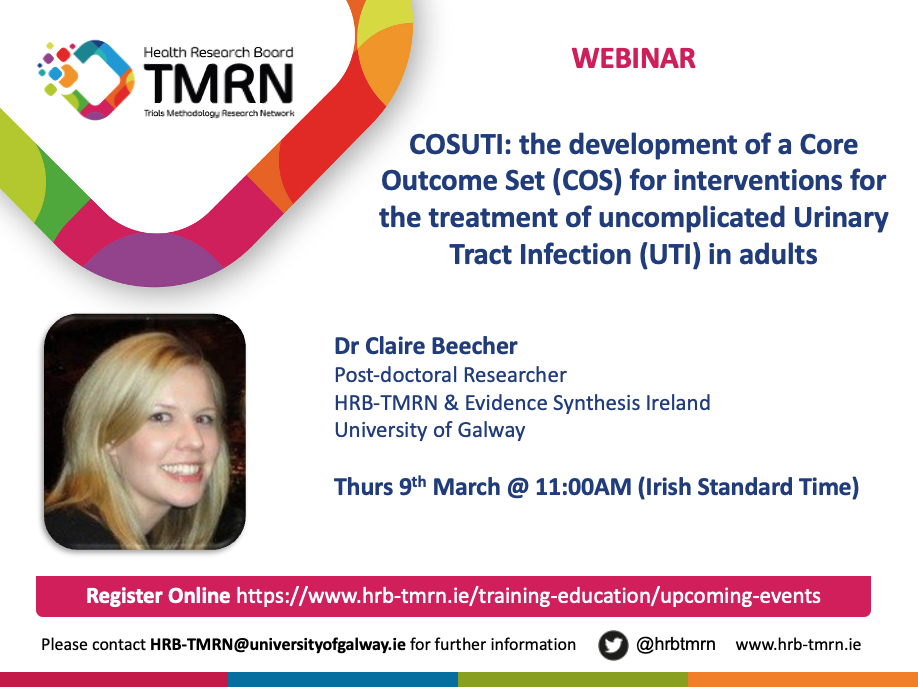 Time

(Thursday) - Irish Standard Time