09febWebinar: Dr Mais Iflaifel & Dr Christopher Partlett - Blinding of Trial Statisticians in Clinical TrialsEvent-Type:Webinars
Event Details

A UK wide survey conducted in 2020 suggested there was substantial variation in practice between CTUs when it comes to blinding trial statisticians. The Blinding of Trial Statisticians (BOTS) project was funded by the UK National Institute of Health and Care Research (NIHR) to investigate the reasons for this heterogeneity and to provide guidelines for best practice.

Ensuring statisticians remain blinded to treatment allocation prior to the final analysis reduces the risk that the statisticians could introduce any bias through their conduct and reporting. However, utilising an independent statistician comes with a substantial additional resource cost and can sometimes even lead to potentially suboptimal conduct of the trial.

This webinar will summarise the methodology and findings of the BOTS project. Outputs include a guidance document and risk assessment tool to help CTUs to apply evidence-based decision-making to the blinding of statisticians.

Mais Iflaifel is a clinical Pharmacist with a PhD degree in Pharmacy Practice from Reading University in the UK. Mais has a long experience in higher education teaching and research. Her research focuses on medication safety, insulin use, cardiac medications and best practices. She had 10 papers published in national and international journals.

Christopher Partlett is Assistant Professor of Medical Statistics at Nottingham Clinical Trials Unit in the UK. He has an MSci in Mathematics and PhD in Statistics from the University of Birmingham. He has worked as a Medical Statistician contributing to the design and delivery of randomised trials at multiple UK clinical trials units (CTUs). He also has an interest in trials methodology research and, in particular, the different approaches that CTUs take to randomisation and blinding of trial statisticians.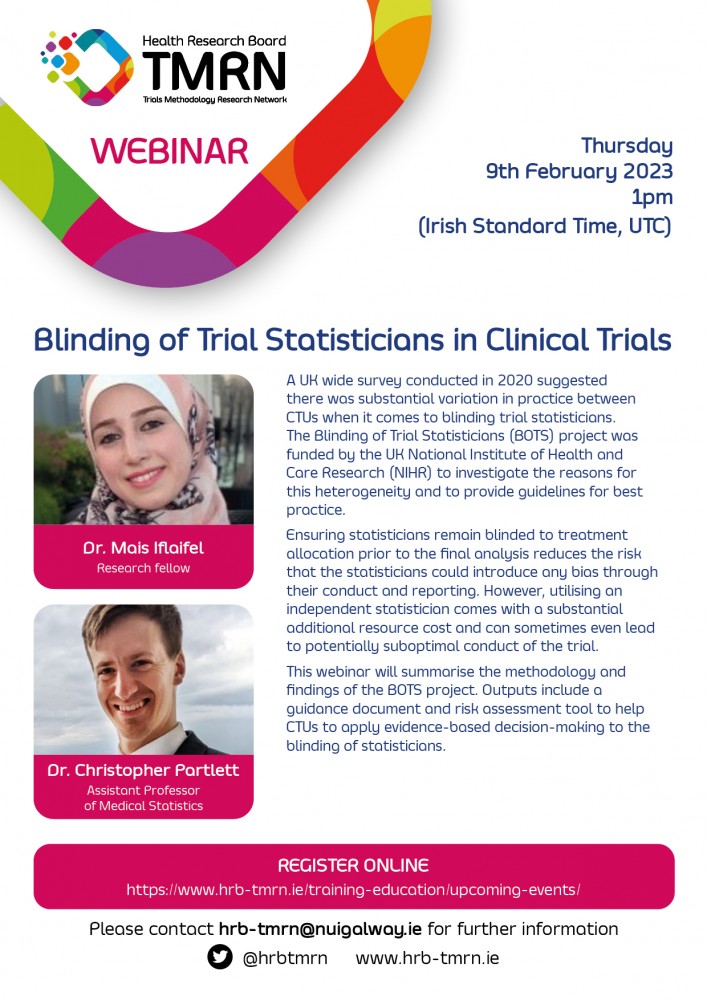 Time

(Thursday) - Irish Standard Time, UTC +1