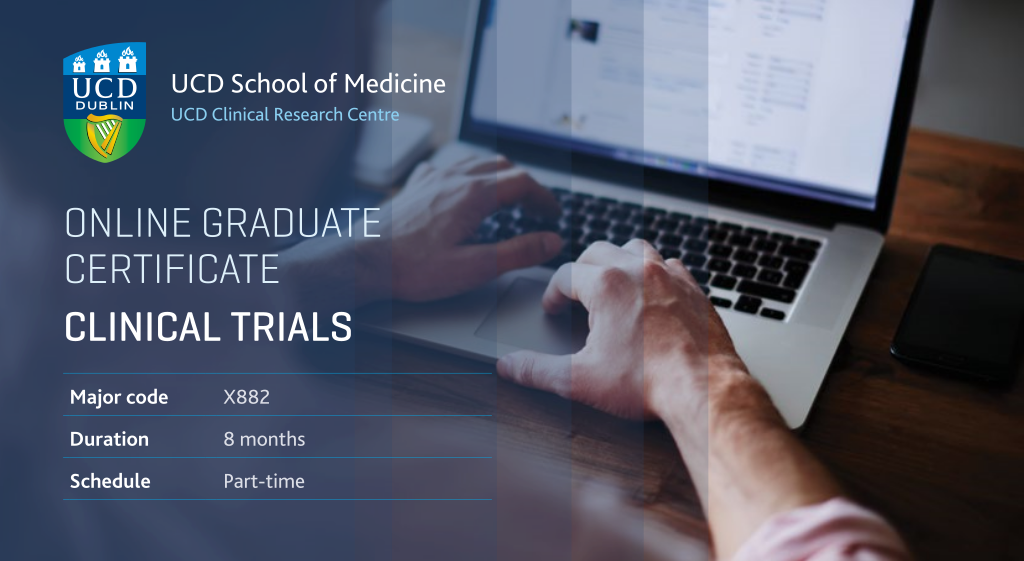 Outline
The Online Graduate Certificate in Clinical Trials is an eight-month innovative training programme for those wishing to pursue a career in clinical research. It aims to develop employment-ready experts, who will implement clinical research programmes to the highest ethical, regulatory and scientific standards. Students on the programme will earn 30 ECTS credits through the completion of three modules: Clinical Trials, Biostatistics & Data Management and Clinical Trial Management. Graduates will be industry-ready, internationally mobile and adequately skilled to pursue clinical research careers.
What will I learn?
Clinical trial design
Clinical trial initiation and management
Clinical trial regulation
Documentation required for clinical trial ethics and regulatory applications
Quality systems and SOPs
Statistical methods for clinical research
Clinical data management
Appraisal, evaluation and enhancement of clinical research protocols
Communication and presentation skills for the clinical research environment
How will I learn?
This training programme is delivered entirely through a virtual learning environment, where the classroom comes to you. Lecture content and reading materials are made available online and you can progress through this highly interactive course at a pace that fits in with your work and other commitments. This flexibility has enabled students from 19 countries to pass through the programme to date. Students are taught and assessed by experts from UCD Clinical Research Centre, ensuring they have the opportunity to develop relevant and up-to-date knowledge and skills.
Who is this course for?
This course has been designed to be accessible to those with a background in science, who wish to gain a competitive employment advantage in pursuing a career in bio-pharmaceutical research, biotechnology or within the medical device sector in Ireland or abroad.
Testimonial
"The UCD Graduate programme is a highly innovative way of providing training to graduates in science and medicine. The programme rapidly brings participants to a situation in which they are highly attractive to employers and it dramatically shortens their training time once employed. We at ICON have employed a high proportion of the graduates from this programme and look forward to continuing to do so. We believe that it gives us and indeed Ireland a significant competitive advantage as well as serving our graduates well.''
Professor Brendan Buckley, Chief Medical Officer, ICON Plc
More information
For more information on the course, entry criteria and registration, please email crc@ucd.ie or visit
http://www.ucd.ie/medicine/studywithus/graduatestudies/clinicalresearch/onlinegraduatecertificateinclinicaltrials/