What is the START Competition?
Every year the world celebrates International Clinical Trials Day on May 20th. This event marks the anniversary of the first well-documented randomised clinical trial which took place in 1747 in the British Navy. The Health Research Board – Trials Methodology Research Network (HRB-TMRN) wishes to celebrate this important occasion with the help of the younger members of our community. We invite primary school students in 4th, 5th & 6th classes to lead on an exciting project and create their very own fun randomised clinical trial.
How can schools take part?
Teachers and students are asked to identify a suitable research question they can answer scientifically using the information provided. The purpose of this competition is to help students become aware of the randomised clinical trial process, rather than answering a groundbreaking question. Pick a simple, easy to answer question, but use the proper steps of a clinical trial to answer it.
The best part is that you can report the findings in any way you like, podcast, video, collage or poster, report, it's up to you to be as creative as you like! The deadline for receipt of completed projects is April 12th 2019.
What can schools win?
Shortlisted entries will be invited to join the HRB-TMRN in NUI Galway on Friday, May 17th, where the winner will be announced and presented with the HRB-TMRN START Trophy 2019.
The HRB-TMRN will cover all travel expenses for attending the ceremony and lunch will be provided on the day. Students will enjoy a series of educational, interactive, fun workshops and learn more about clinical research.



Notification of
Shortlisted Schools

Lets Get Started
To get started, Simply download the relevant helpful documents below.
Stories, Videos, Online Resources, Memories and More…
START 2018
Check out all of the fun of our 2018 event
START 2017
Check out all of the fun of our 2017 event
START 2016
Check out all of the fun of our 2016 event
Learn more about START
Click here to view our Q&A webinar with Prof. Declan Devane
Learn more about START
Click here to view our Q&A webinar with START Ambassadors Elaine Finucane and Tom Conway
Cloghan's Hill National School
1st Place START Winners 2017
Scoil Moibhí
2nd Place START Winners 2017
St. Josephs NS Macroom Cork
3rd Place START Winners 2017
Past Events
Have a look at previous events
Click here to view the 3 shortlisted entries for 2016, 2017 & 2018. Each shortlisted school received a START trophy and attended a fun interactive day in NUI Galway to meet with people working on randomised clinical trials.
Need Support?
Talk to us today! We have a team of experienced people around the country who are very happy to help you and your class or school take part in START. We can arrange for a visit to your school or chat over the phone to help you.

Sandra Galvin
Programme Manager HRB-TMRN and START Co-Founder
Contact Details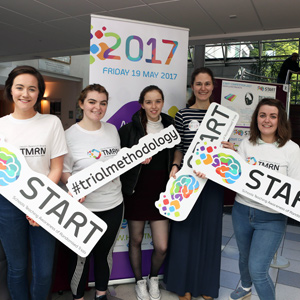 We have a number of national volunteers who can help your school take part