The HRB-TMRN is a proud Partner in the MRC-NIHR-Trials Methodology Research Partnership in the UK. This Partnership offers significant opportunity for trials methodology Researchers to develop and expand their collaborative personal networks.
There are eight TMRP working groups which each specialise in specific areas relevant to trial methodology, with many active sub-groups. The main thematic areas of the Working Groups are:  Adaptive Designs, Global Health, Health Economics, Health Informatics, Outcomes, Statistical Analysis Precision Medicine and Trial Conduct.
Coinciding with #WorldEnvironmentDay, the Partnership launched a new 'Greener Trials' group. This will build on existing research, including exploring the carbon footprint of clinical trials, and workshops on greener biomedical research.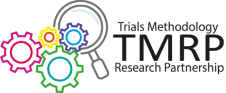 Full details on how to apply and join these groups are available on the TMRP website: https://www.methodologyhubs.mrc.ac.uk/. You can also follow the TMRP on Twitter @MRCNIHRTMRP.
Please contact our Programme Manager to discuss further supports which are available to working groups members, which include specific funding awards and support for travel.