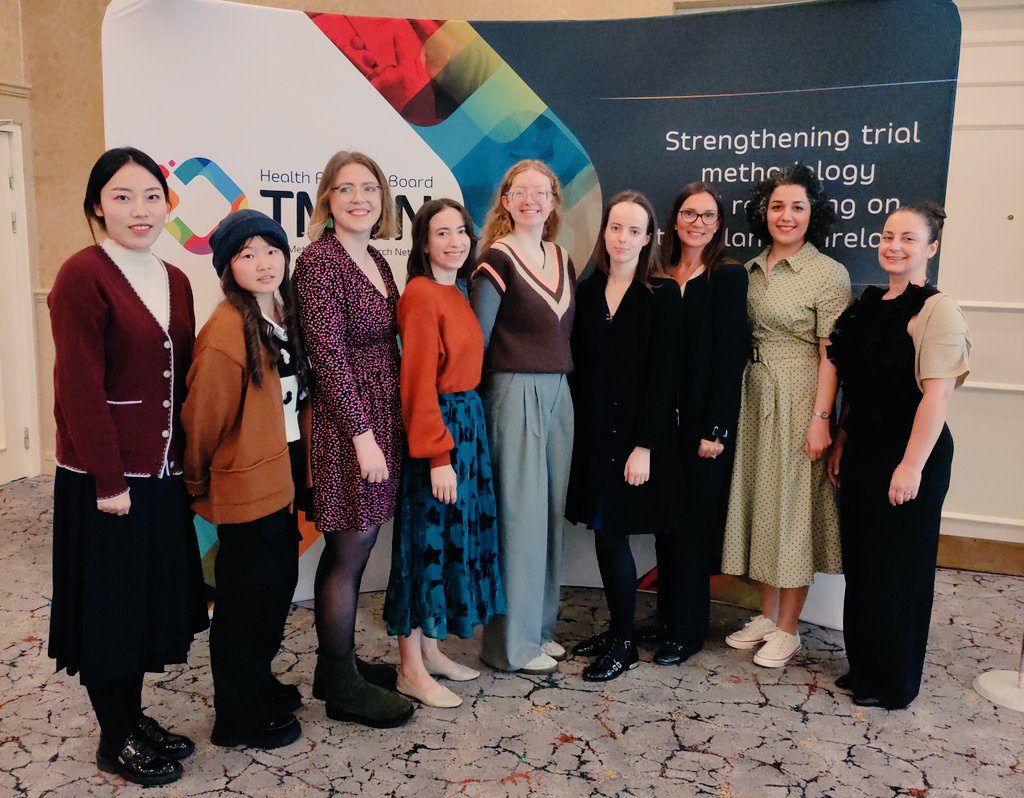 All roads led west on October 19th & 20th 2023 
This blog post serves as a retrospective look at two influential events that brought together the sharpest minds in the field of trials methodology in Ireland. With a focus on strong science through collaboration and inclusivity, the events not only provided knowledge but also paved the way for future innovations in the field.
A Convergence of Intellects 
On the 20th of October the shores of Galway Bay echoed with the voices of science and collaboration as the HRB-TMRN National Office, the Centre for Health Research Methodology at the School of Nursing and Midwifery and the new Institute for Clinical Trials hosted the landmark 8th Trials Methodology Symposium. The event, with the theme "Partnerships in Trials Methodology – working together for stronger science," welcomed 150 dedicated professionals into a day of insightful discourse and networking.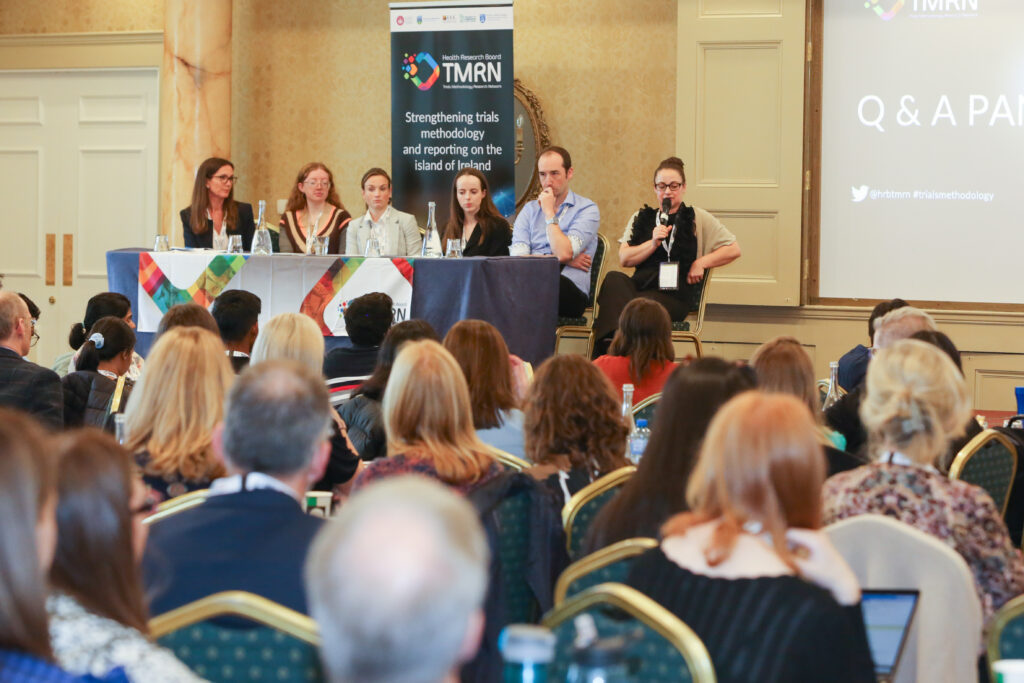 The Galway Bay Hotel was alive with enthusiasm as key industry and academic figures took the stage. Dr. Teresa Maguire from the Health Research Board set the tone with an earnest welcome, highlighting the Network's success and impact to date, paving the way for a series of illuminating talks. Dr. Ronan Fox captivated the audience with a dialogue on how technology is pivotal in building robust site partnerships. Stephen O'Hare of HIV Ireland enlightened attendees on the necessity of inclusivity in ID trials, while Dr. David Moher from the Ottawa Hospital Research Institute took a deep dive into the crucial involvement of partners in trial reporting guidelines. This session was expertly Chaired by HRB-TMRN Executive Management Committee member Prof Aoife Lowery, from the Institute for Clinical Trials, University of Galway.
Session 2 was chaired by Dr Sandra Galvin (HRB-TMRN Programme Manager) with PhD students taking centre stage, with Ellen Murphy (UCC) offering a unique perspective on retention strategy communication in clinical trials, Simone LePage (University of Galway) providing great insight into her challenging (but fun) project; The Kids Trial, and Dr Emer Gunne's (UCD) discussion on integrating digital technology into clinical settings charted the course for future advancements. Kathleen Hannon (TCD) dipped into the world of model creation for PPI involvement in maternal and neonatal trials. This session also welcomed Dr Sinead Holden sharing her novel work on trials methodology priorities, which generated huge interest from the audience. Dr Paul Wicks provided a captivating and inspiring overview of the opportunities and pitfalls for decentralised clinical trials, exploring the advantages for inclusivity and improved retention in trials.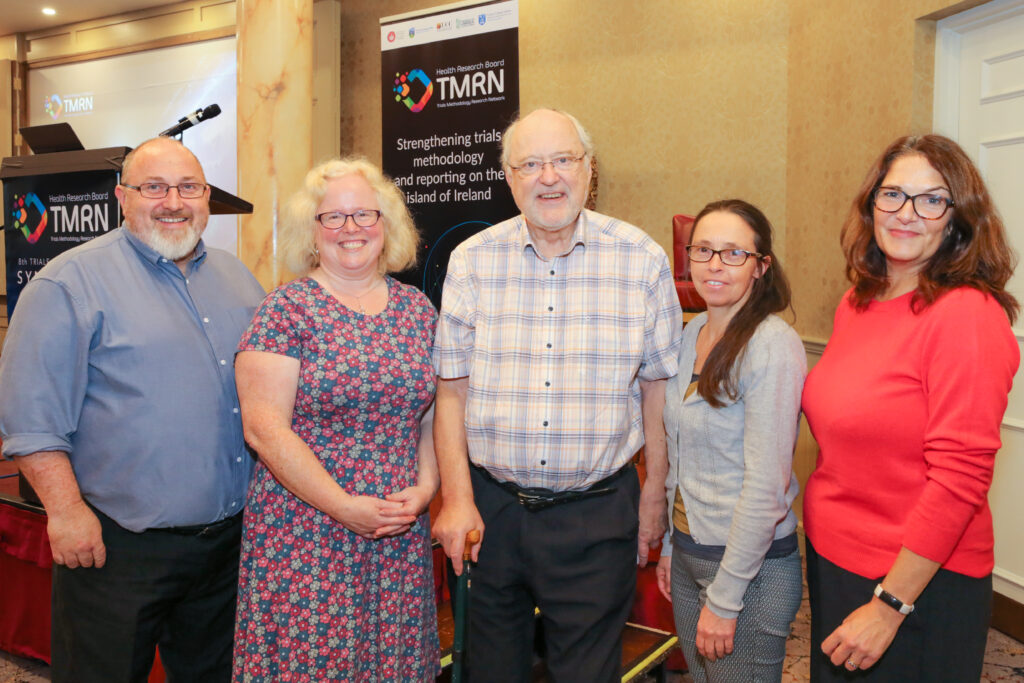 Session 3 welcomed Beccy Maeso from the James Lind Alliance who kickstarted the session, illuminating how the Alliance is pioneering in setting research priorities by actively involving both patients and clinicians. This approach underscores the growing importance of patient-centered perspectives in shaping the future of healthcare research. Next, Prof. Karla Hemming from the University of Birmingham explored the specific contexts where stepped-wedge cluster randomized trials are the most beneficial. These trial designs are increasingly popular in healthcare research, and Prof. Hemming's insights offered valuable guidance on their effective implementation.
Prof. Kerry Hood from Cardiff University then highlighted the significant role of Clinical Trial Unit (CTU) partnerships in enhancing trial conduct. By fostering knowledge exchange and initiating innovative projects, these partnerships aim to streamline and improve the efficiency of clinical trials. The day reached its zenith with guest speaker Roger Wilson's passionate discourse on the crucial role of patient advocacy in trials methodology.
Structured Q&A panels wove together the threads of each presentation, while informal networking breaks and the presentation of awards created a tapestry of professional kinship and community. Feedback from the event shows that 85% of attendees feel more informed to conduct better randomised trials in the future, with attendees describing the event as "informative" , "enjoyable"  and a "Good mix of current topics presented by excellent speakers".
Pioneering Inclusivity: Inclusive Trials Methodology Through Qualitative Research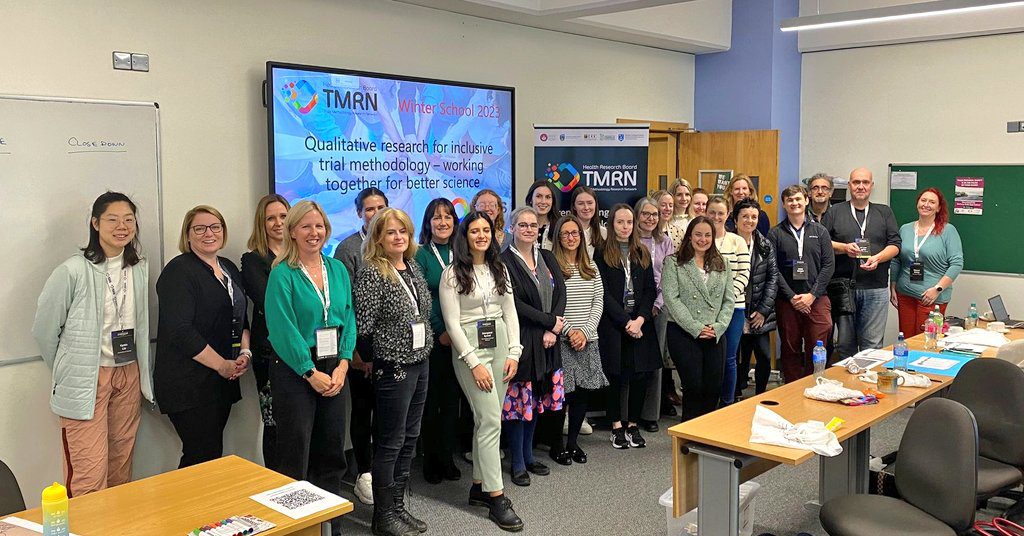 The prelude to the symposium was an equally engaging event on the 19th of October. The School of Nursing and Midwifery, University of Galway, became a crucible of innovation with a focused training day on Inclusive Trials Methodology Through Qualitative Research. Twenty-eight participants delved into the world of qualitative research, with a spotlight on the principles of Equality, Diversity, and Inclusion (EDI).
The workshops and sessions were not just about learning but were interactive experiences, catalyzing conversations that tackled traditional and contemporary methodologies. Our own esteemed faculty led the charge:
Dr. Laura Jones offered her global perspective from the University of Birmingham.
Dr. Linda Biesty, HRB-TMRN Executive Management Committee Member and Senior Lecturer in Midwifery, School of Nursing and Midwifery, University of Galway.
Dr. Catherine Houghton shared her dual expertise as the Director of Research SoNM and Co-Chair of the Qualitative Research in Trials Centre.
Dr. Andrew Hunter, the guiding head of School SoNM, provided overarching insights into the importance of qualitative research.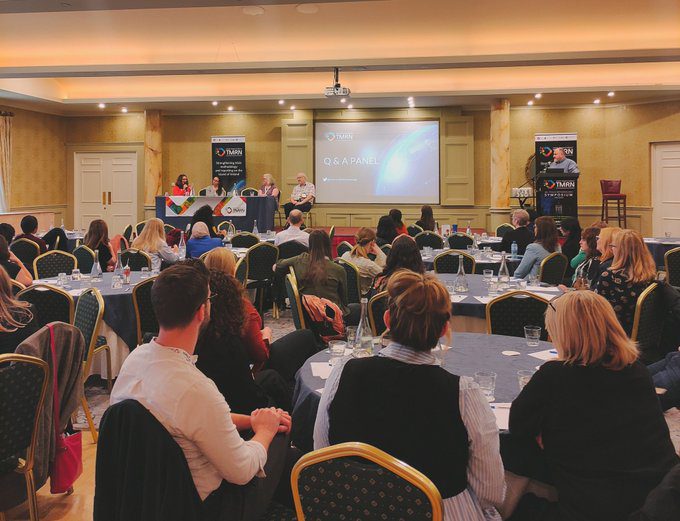 This training day underlined a commitment to excellence in trial design and reporting. We at the School of Nursing & Midwifery are beyond proud to have hosted such a transformative event and look forward to continuing our journey toward breakthrough collaborations. Feedback from this event was very positive, with one delegate commenting: "The interactive nature of the workshop was conducive to reflection & learning. Large group discussions were rich. The facilitators were excellent".
Stay tuned to our channels for more updates and make sure to visit the HRB-TMRN website for details on future events.
#trialsmethodology @HRB-TMRN Check out all the photos from this event: https://flic.kr/s/aHBqjAZKJ2